Paul Levine
Bestselling Mysteries and Thrillers
Paul Levine is an award-winning author of mysteries and legal thrillers. Drawing on his own life as a trial lawyer, Paul writes sizzling crime novels that have been published in 23 languages and adapted for television.
---
"Bum Rap" Debuts July 1–Pre-Order Now!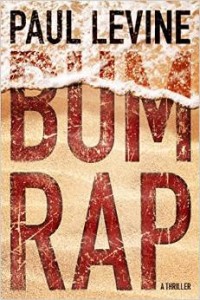 "The pages fly by and the laughs keep coming in this irresistible Florida crime romp. A delicious mix of thriller and comic crime novel." – Booklist (starred review)
Who killed a South Beach nightclub owner…a sexy Russian bar-girl or Miami lawyer Steve Solomon?  When Solomon is charged with the murder, ex-linebacker Jake Lassiter defends him and tumbles into an ethical morass involving a runaway witness, perjured testimony and his growing feelings for Solomon's lover, Victoria Lord. It's an emotional powder keg that could destroy the defense — and Lassiter — on the eve on an explosive trial. More about "Bum Rap" here. Pre-order the e-book, trade paperback, or audio from Amazon today.
---
"They don't call us sharks for our ability to swim." – Jake Lassiter
If you'd like to discover why Lassiter is so disillusioned with the justice system, try the Jake Lassiter Series.  In ten legal thrillers, Jake battles to find the truth…and ends up fighting for his own survival, including being put on trial for murder. The series has earned rave reviews and the prestigious John D. MacDonald Fiction Award.  "Courtroom drama at its very best." — USA Today
"When the law doesn't work…work the law." – Steve Solomon
Battle of the Sexes: Slippery Steve Solomon and by-the-book Victoria Lord are the squabbling heroes of the Solomon vs. Lord series, nominated for the Edgar Allan Poe Award, the International Thriller Writers Award, and the James Thurber Humor Prize. The books have been described by the Chicago Sun-Times as "remarkably fresh and original, a hilarious, touching twist on the legal thriller."
"Forget it, Steve. I'm not having sex in the ocean." – Victoria Lord
Paul Levine's bestsellers, including his mysteries and stand-alone thrillers, are now available as ebooks on Amazon Kindle, with many also published in new trade paperback editions.
"Take one part John Grisham, two parts Carl Hiaasen, throw in a dash of John D. MacDonald, and voila! You've got Paul Levine." – Tulsa World 
You can watch Paul's video interviews, learn about bargain books, and make purchases on the Paul Levine Amazon Author Page.
Latest Blog Posts from Paul Levine
Best Book Covers of All Time
By Paul Levine Lots of people compile lists of their favorite books. So why not the best book covers? I thought I'd share a few of my favorites, my personal list of the Best Book Covers of All Time. I'd start with Joseph Hirsch. He was a Social Realist painter whose cover of Arthur Miller's…
Amazon Drones: Fly Me!
From the messy desk of Paul Levine… By now you know,  Amazon is experimenting with delivering packages to your front door by drones.  If you missed it, the video shown on "60 Minutes" is available on You Tube.  Now, The New York Times reports that Google  is developing "humanoid robots" — I love that term — that can hop…