PAUL LEVINE
Author of Bestselling Mysteries and Thrillers
Paul Levine is an award-winning author of mysteries and legal thrillers. Drawing on his own life as a trial lawyer, Paul writes sizzling crime novels that have been published in 23 languages and adapted for television.
"Bum Rap" Bursts onto Bestseller List!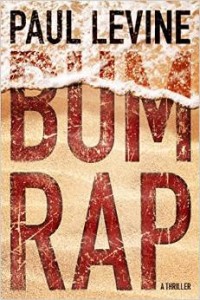 "The pages fly by and the laughs keep coming in this irresistible Florida romp. A delicious mix of thriller and comic crime novel." – Booklist (starred review)
Who killed a South Beach nightclub owner…a sexy Russian bar-girl or Miami lawyer Steve Solomon?  When Solomon is charged with the murder, ex-linebacker Jake Lassiter defends him and tumbles into an ethical morass involving a runaway witness, perjured testimony and his growing feelings for Solomon's lover, Victoria Lord. It's an emotional powder keg that could destroy the defense — and Lassiter — on the eve on an explosive trial.
BULLETIN: A June Kindle First selection, "Bum Rap" almost immediately hit Number One on the Amazon Bestsellers list. It also quickly climbed to Number One in the "legal thriller" and "mystery" categories.
More about "Bum Rap" here. Order the e-book, trade paperback, or audio from Amazon today.
---
Feature Video
Paul Levine's Interview With Amazon
Latest Blog Posts from Paul Levine
"ALL THE LIGHT WE CANNOT SEE" Ruined My Trip
By Paul Levine Anthony Doerr ruined my vacation. He also destroyed the confidence of blossoming writers and set an impossibly high standard for other novelists. What's the matter, Tony? Winning the Pulitzer wasn't enough? Doerr is the author of All the Light We Cannot See, the lyrical, compassionate, hauntingly gorgeous novel that won this year's…
Continue Reading "ALL THE LIGHT WE CANNOT SEE" Ruined My Trip »

Carl Hiaasen Tricked Me Into a New Career
By Paul Levine I blame Carl Hiaasen. Let me explain. It was 1986. I was a partner in the Miami office of a mammoth law firm with offices from Philadelphia to Tokyo. I specialized in "complex civil litigation." Upside: Financial security. Downside: Boring work. Even worse than the daily tedium, I'd abandoned my true self….
Continue Reading Carl Hiaasen Tricked Me Into a New Career »