PAUL LEVINE
Author of Bestselling Mysteries and Thrillers
Paul Levine is an award-winning author of mysteries and legal thrillers. Drawing on his own life as a trial lawyer, Paul writes sizzling crime novels that have been published in 23 languages and adapted for television.
"Bum Rap" Debuts July 1 – Order Now!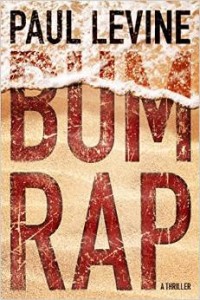 "The pages fly by and the laughs keep coming in this irresistible Florida romp. A delicious mix of thriller and comic crime novel." – Booklist (starred review)
Who killed a South Beach nightclub owner…a sexy Russian bar-girl or Miami lawyer Steve Solomon?  When Solomon is charged with the murder, ex-linebacker Jake Lassiter defends him and tumbles into an ethical morass involving a runaway witness, perjured testimony and his growing feelings for Solomon's lover, Victoria Lord. It's an emotional powder keg that could destroy the defense — and Lassiter — on the eve on an explosive trial.
BULLETIN: A June Kindle First selection, "Bum Rap" quickly hit Number One on the Amazon Bestsellers list. It also is ranked Number One in the "legal thriller" and "mystery" categories.
More about "Bum Rap" here. Order the e-book, trade paperback, or audio from Amazon today.
---
Feature Video
Paul Levine's Interview With Amazon
Latest Blog Posts from Paul Levine
"BUM RAP" Sits Atop Kindle Store
By Paul Levine Precisely 25 years after his first appearance in print, Jake Lassiter is back. The book is BUM RAP, and it's off to a fast start, ranking Number One in the "legal thrillers," "mysteries" and "thrillers" categories in the Amazon Kindle Store. Overall, it's ranked Number Four out of 3.6 million titles. Set…
Hard-Boiled Dialogue: From Philip Marlowe to Jake Lassiter
Hard-boiled dialogue…the literary equivalent of a quick punch to the gut. "It was a blonde. A blonde to make a bishop kick a hole in a stained glass window." "Dead men are heavier than broken hearts." Those hard-boiled lines come from the mind of tough-guy P.I. Philip Marlowe, which is to say from author Raymond…
Continue Reading Hard-Boiled Dialogue: From Philip Marlowe to Jake Lassiter »