PAUL LEVINE
Author of Bestselling Mysteries and Thrillers
Paul Levine is an award-winning author of mysteries and legal thrillers. Drawing on his own life as a trial lawyer, Paul writes sizzling crime novels that have been published in 23 languages and adapted for television.
"Bum Rap" Debuts July 1 – Order Now!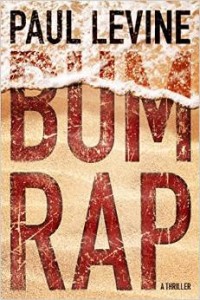 "The pages fly by and the laughs keep coming in this irresistible Florida crime romp. A delicious mix of thriller and comic crime novel." – Booklist (starred review)
Who killed a South Beach nightclub owner…a sexy Russian bar-girl or Miami lawyer Steve Solomon?  When Solomon is charged with the murder, ex-linebacker Jake Lassiter defends him and tumbles into an ethical morass involving a runaway witness, perjured testimony and his growing feelings for Solomon's lover, Victoria Lord. It's an emotional powder keg that could destroy the defense — and Lassiter — on the eve on an explosive trial. More about "Bum Rap" here. Order the e-book, trade paperback, or audio from Amazon today.
---
Feature Video
Paul Levine's Interview With Amazon
Latest Blog Posts from Paul Levine
Hard-Boiled Dialogue: From Philip Marlowe to Jake Lassiter
Hard-boiled dialogue…the literary equivalent of a quick punch to the gut. "It was a blonde. A blonde to make a bishop kick a hole in a stained glass window." "Dead men are heavier than broken hearts." Those hard-boiled lines come from the mind of tough-guy P.I. Philip Marlowe, which is to say from author Raymond…
Continue Reading Hard-Boiled Dialogue: From Philip Marlowe to Jake Lassiter »
Mystery Novels vs. Thrillers
By Paul Levine At a conference recently, I was asked, "Do you write mystery novels or thrillers?" "Yes," I answered with a smile. Okay, it's a wise ass reply. There are discernible differences between the two genrea.  As Wikipedia succinctly explains, the thriller hero must stop the villain's plans, rather than uncover a crime that…