"For Don Russo (1946-2014) football player, rugby player, trial lawyer, friend." — Dedication of "Bum Luck"
In September 1970, on the first day of my first year of law school, while waiting to have my photo I.D. taken, I struck up a conversation with another student, Don Russo. Both Don and I loved college football. As a sports writer, I had written about football. But Don had played. At the University of Miami, he'd been a small, speedy, fearless wide receiver. Going over the middle, he'd been knocked around like a pinball by linebackers 50 pounds heavier. In those days, concussions weren't taken that seriously by coaches, trainers, or doctors. A player got his "bell rung." If he still knew his name and could count to three, he could play, concussions be damned.
Don had short stints with the San Diego Chargers and Miami Dolphins, but after realizing there were faster, larger wide receivers at that level, he settled into the practice of law. Over the next quarter-century, Don became one of the top plaintiffs' personal injury and toxic tort lawyers in Florida.
He also played rugby on an international level where it is simply not possible to compete without suffering head injuries, including concussions. Compete he did, fiercely and fearlessly.
Don was already showing early symptoms of the disease that would claim his life when the photo above was taken in 2011. The occasion was my appearance at Books & Books in Coral Gables for the launch of "Lassiter."
That's Don on the left and famed trial lawyer Stuart Grossman on the right. We had all been friends since law school 40 years earlier. Don also attended my first book signing in 1990 for "To Speak for the Dead," as shown below. Yes, we were both much younger.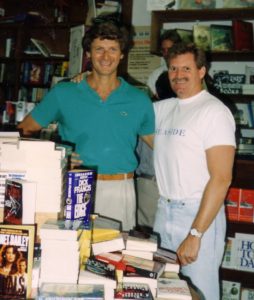 The end came slowly and painfully for Don, his family and friends. Frontal lobe dementia and A.L.S. with symptoms consistent with Chronic Traumatic Encephalopathy, caused by repeated concussions. He died three years ago last month. It was then I decided that Jake Lassiter would have his own encounter with brain injury and potential C.T.E. in my new novel "Bum Luck." After all, he'd suffered a series of concussions going back to high school in the Florida Keys, through his playing days at Penn State, and on the aptly named suicide squads with the Miami Dolphins. How does Lassiter's potential brain damage manifest itself. How about the first sentence of the novel?
Thirty seconds after the jury announced its verdict, I decided to kill my client.
By now, most readers are aware of the work of Dr. Bennet Omalu, the forensic pathologist who established the link between football head injuries and the fatal disease. You may have seen the movie "Concussion" in which Will Smith stars as Dr. Omalu and runs into the stone wall of deniers at the N.F.L.
The casualty list of former players with C.T.E. reads like an All-Pro team. In fact, on one restless night in "Bum Luck," Lassiter has a nightmare inspired by his own fears of brain damage:
I dreamed of a football game played by dead men.
Not zombies. Nothing so weird.
The men were very much alive in the game. Young and strong and fast. In their prime, but even my somnolent brain knew they were dead now.
A fine mist covered the field, so it was difficult to make out the stadium, but it seemed to be the Orange Bowl, as long gone as the players. Earl Morrall, with his crew cut and square jaw, wearing a vintage Dolphins' jersey, lofted a perfect pass to Frank Gifford, the golden boy, in a Giants' uniform. Gifford juked past Dave Duerson, in Bears' blue and orange, and sailed into the end zone, untouched. My sleeping mind mashed it all up, not caring about team rosters or eras. An all-star dream team all linked by brain damage caused by C.T.E.
In Lassiter's fictional world, Dr. Melissa Gold, a neuropathologist, will try experimental treatments actually being used in the real world. As you may have read, in post-mortem tests of brain tissues, 90 of 94 former professional football players who had shown symptoms of dementia were revealed to have, in fact, suffered from C.T.E. resulting from repetitive concussions. Just last month, two living former NFL stars – Gale Sayers and Dwight Clark – were revealed to be suffering from symptoms consistent with C.T.E. (The gruesome fact is that a positive diagnosis can only be made post-mortem).
The more I researched, the more angry I became at the NFL for its shameful conduct in lying about the connection between football concussions and dementia. And when I get angry, so does Jake Lassiter. He always relishes a challenge. This time, I gave him one that might be too tough, even for the ex-linebacker with the hard bark and tender heart.
Let's hope he makes it through the gathering fog of this dark night.