PAUL LEVINE
Author of Bestselling Mysteries and Thrillers
Paul Levine is an award-winning author of mysteries and legal thrillers. Drawing on his own life as a trial lawyer, Paul writes sizzling crime novels that have been published in 23 languages and adapted for television.
"Bum Rap" Bursts onto Bestseller List!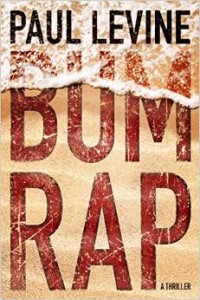 "The pages fly by and the laughs keep coming in this irresistible Florida romp. A delicious mix of thriller and comic crime novel." – Booklist (starred review)
Who killed a South Beach nightclub owner…a sexy Russian bar-girl or Miami lawyer Steve Solomon?  When Solomon is charged with the murder, ex-linebacker Jake Lassiter defends him and tumbles into an ethical morass involving a runaway witness, perjured testimony and his growing feelings for Solomon's lover, Victoria Lord. It's an emotional powder keg that could destroy the defense — and Lassiter — on the eve on an explosive trial.
BULLETIN: A Kindle First selection, "Bum Rap" almost immediately hit Number One on the Amazon Bestsellers list. It also quickly climbed to Number One in the "legal thriller" and "mystery" categories. Read an excerpt here..
NEW: "Bum Rap" and all of Levine's legal thrillers are FREE for Kindle Unlimited members. Visit his Amazon Author Page to download. "Bum Rap" is available as an e-book, trade paperback, and audio book.
COMING IN MARCH 2017: "Bum Luck" finds Lassiter plotting to kill his own client, just acquitted of murder. Solomon and Lord fear their friend has endured one-too-many concussions and may be suffering from potentially fatal C.T.E. Lassiter won't listen to anyone, not even his beautiful neurologist, as he embarks on what could be a suicide mission.
---
Feature Video
Paul Levine's Interview With Amazon
Latest Blog Posts from Paul Levine
Mystery Writers Lust After Hollywood
I came to Hollywood for the health insurance. That's right. I lusted after cheap meds, not fame and fortune, when I migrated from Miami to Hollywood 17 years ago. And why not? A doctor's visit costs ten bucks at the industry-subsidized Bob Hope Health Center. I quickly learned, however, that writers pay their dues in…
John D. MacDonald…and Me
This is the 100th anniversary year of the birth of John D. MacDonald, Florida's favorite novelist. The Sarasota Herald-Tribune (JDM's hometown paper) asked a bunch of writers — Stephen King, Lee Child, Jeff Deaver, Dennis Lehane, Heather Graham, among others — to write short articles describing how MacDonald influenced them. Oh, the paper asked me,…