By Paul Levine
Enough about books! Today, let's talk about food.
"First we eat. Then we do everything else." – M.F.K. Fisher

Admit it, foodies. You miss your favorite pizza places or ribs and barbecue joints of your youth. Or how about that lingering memory of strawberry cheesecake or four-berry pie?
If so, here are some suggestions for overnight food delivery, or internet dining, focusing on classic dishes from iconic eateries.
Maybe you're throwing a pizza party and you're tired of the same old neighborhood take-out joint. Internet dining lets you order from the nation's most famous pizza places. How about a stuffed pie from Chicago's Giordano's? Two 10-inch deep-dish pizzas with pepperoni, plus a Giordano's t-shirt, cost $80, free ground shipping. Add about $35 for Fed Ex overnight. The pies are partially baked, then frozen and shipped with dry ice.
I've indulged in some internet dining. A Chicago pal sent me two deep dish pizzas from Giordano's competitor, Lou Malnati's, where $62 gets you a pair of pies, overnight shipping included. The ones I tried — a pepperoni and a sausage — were tasty…almost like being there. (You can order from Tastes of Chicago).
Tastes of Chicago also ships Wildfire Steaks and Eli's Cheesecakes .
Then there's Vienna Beef hot dogs and Portillo's Italian beef sandwiches and other local favorites that won't show up on diet websites.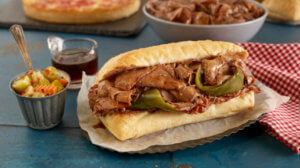 Maybe you're from Kansas City, but now living in Orlando, and you're missing those hickory-smoked spare ribs from Jack Stack. You can get a slab plus a pint of hickory pit beans, a pound of beef burnt ends, some cheesy corn bake and, of course, a jar of K.C. barbecue sauce for $111, plus $29 ground shipping. The ribs – fully cooked, flash frozen and vacuum sealed – can be heated and served within minutes.
Or you're working in Driftwood, TX, and as much as you love the Salt Lick Bar-B-Que, you yearn for Manhattan's Barney Greengrass, "The Sturgeon King." A pound of nova, a dozen bagels and a pound of cream cheese with scallions will reach you overnight, packed in dry ice, for $140, overnight shipping included.
"Life is uncertain. Eat dessert first." – Ernestine Ulmer.

You could try your hand at baking, or make use of internet food delivery. How about Michigan crumb four-berry pie from Achatz Handmade Pie Co. in Chesterfield, MI. Free two-day delivery included in the $49 price.
Then, after dessert…read a good book. And if you have any suggestions for pizza places or any other internet food delivery, please let me know.