By Paul Levine
(First of a series)
What are the greatest legal thrillers of all time? I'm defining the term broadly. To me, a legal thriller is any novel in which courtroom scenes or the justice system play a major role in the plot.
To get technical about it, Wikipedia defines the legal thriller as:
"[A] sub-genre of thriller and crime fiction in which the major characters are lawyers and their employees. The system of justice itself is always a major part of these works, at times almost functioning as one of the characters. In this way, the legal system provides the framework for the legal thriller much as the system of modern police work does for the police procedural."
The justice system itself is often put on trial in legal thrillers. Justice is not just delayed, but also denied…until a courageous and outgunned lawyer – like the hero of a classic Western – enters the fight.
The late comedian Lenny Bruce, who was frequently charged with obscenity for his on-stage acts, cynically observed: "In the halls of justice, the only justice is in the halls."
My own character, lawyer Jake Lassiter,  has a similar view of the "so-called justice system." Lassiter practices in Miami, where a sign hangs above the bench in every courtroom. "We Who Labor Here Seek Only the Truth."
"There ought to be a footnote," he complains in State vs. Lassiter.  "Subject to the truth being concealed by lying witnesses, distorted by sleazy lawyers, and excluded by lazy judges."
MY TOP LEGAL THRILLER: "ANATOMY OF A MURDER"
"Anatomy of a Murder" (1958) by John Voelker, writing as Robert Traver. The plot was based on a case Voelker had handled as a young defense lawyer.  This iconic novel is a pure legal thriller centered around a suspenseful murder trial that could go either way. Defense lawyer Paul Biegler's client admits the killing, but claims justification because the victim allegedly raped his wife. Biegler doesn't trust his client or the wife…bringing verisimilitude to the book. (Take my word for this. Trial lawyers often don't know whether to believe their clients).
The story raises many issues, some legal, some practical. Was the killing justified? Was the client temporarily insane? Will Biegler get paid? The courtroom scenes ring with authenticity.  And unlike many of the popular legal thrillers of the era (Perry Mason, anyone?), justice is not always achieved.
In this sense, "Anatomy" ushered in the modern era of courtroom drama.  Stated another way, would there have been a Grisham or Turow without Voelker?  And, no, I am not forgetting Agatha Christie's earlier "Witness for the Prosecution," the short story that became a play, and then a classic movie, where justice was ill served.
A personal note here. When I sold my first novel, "To Speak for the Dead,"  my editor told me the story reminded her of "Anatomy," which I'd never read. So, I borrowed a copy from the library and concluded two things:
1. "Anatomy" is a great book.
2. It bore little resemblance to "Dead," except both pay homage to the art of combative cross examination.
WRITING A FAN LETTER TO THE AUTHOR OF MY FAVORITE LEGAL THRILLER
I liked "Anatomy" so much I wrote John Voelker a fan letter, saying I admired his work and asking whether he minded Otto Preminger changing key elements of the ending in the movie adaptation. (I'd also rented the film from Blockbuster. You remember Blockbuster's VHS tapes, right?) I received a handwritten reply in green felt tip pen. First, Voelker apologized for his penmanship, saying that he was in his eighties and his eyes were failing. Then, he admitted something I have never heard an author say: "Yes, Preminger changed my ending. He made it a great deal better, don't you think?"
How humble!
Preminger made several brilliant decisions. He hired Wendell Mayes, a screenwriter skillful at literary adaptations. He shot the film in the Upper Peninsula towns where the story was set, instead of Hollywood back lots. He hired Duke Ellington to both score the film and appear in it. To shoot the film in gorgeous black and white, he hired Sam Leavitt who had just won the Oscar for best cinematography for "The Defiant Ones." And then there was the cast. James Stewart, Lee Remick, George C. Scott, Arthur O'Connell, Ben Gazzara, Eve Arden, and the non-actor Joseph Welch as the judge.
Befitting the novel, the film became a classic, as was its poster designed by Saul Bass.
THE OSCARS CALL ON MY FAVORITE LEGAL THRILLER…BUT HANG UP THE PHONE
The film was nominated for seven Academy awards, including Best Picture and Best Actor for Stewart, playing the defense lawyer Voelker had been in real life. Stewart lost the award to Charlton Heston for his role in "Ben-Hur." May I officially demand a recount? Same for best picture where "Ben-Hur" also topped "Anatomy." George C. Scott and Arthur O'Connell were both nominated for supporting actor and probably split the "Anatomy" vote between them. Neither won. Lee Remick was not nominated for her stunning portrayal of the alleged rape victim. Academy voters should probably be tarred and feathered for overlooking Remick in favor of, among others, Doris Day for "Pillow Talk."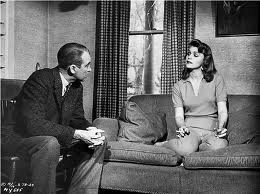 So, please check out my favorite legal thriller of all time, "Anatomy of a Murder."  Then get the classic film from Netflix or Amazon Instant Video and determine which ending you like better.
Next time. More favorite legal thrillers. Will it be "To Kill a Mockingbird?" Or something more contemporary. John Grisham's "A Time to Kill" or Scott Turow's "Presumed Innocent?"

For now, Court stands adjourned!